Free Talk & Gardeners Question Time with Marguerite Hughes Thursday 2nd May 7pm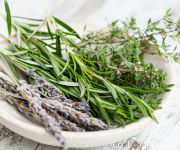 We are pleased to let you know we are hosting a Free talk presented by Marguerite Hughes who is a well known Lancastrian horticulturist, broadcaster & experienced garden speaker. The talk will be based on the theme "Gardening with Herbs & Companion planting including growing Fruit & Vegetables in containers"
After the talk we will be holding a Gardeners Question Time with a panel made up of our staff & Marguerite, this is your time to quiz our experts!
We are also offering a meal deal so you can make an evening of it, prior to the talk served from 5pm to 7pm of either Cottage Pie or Vegetable Lasagne for £5.00 with a free Hot drink included (meal optional)
You can either collect your tickets in store at the information counter (from the 12th April 2019) or you can reserve them online here.
Date:
Get your Free Tickets for our special talk & Gardeners Question time
Please note by filling out the details below you are happy for us to contact you regarding the Talk you are booking tickets for only, just incase we have to cancel the event. We will not pass any of your details on to anyone else or any 3rd Parties.
For full details of our privacy policy visit https://www.birkacre.co.uk/privacy-policy