Easter Bunny Hunt 12th-22nd April 2019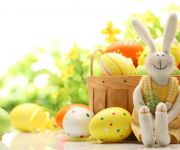 Hop to it!!
We have 10 Easter bunnies who have been naughty and they are hiding around the garden centre & we need your help to find them.
At the information counter you can get an entry form to fill in to be in with a chance of winning a Childs Gardening prize containing gardening gloves, flower seeds & some tasty Easter Treats.
The winner will be drawn at random on the 25th April & the results will be posted on our website, on our in-store notice board & on our Facebook page.
Plus its free to enter.
GOOD LUCK!!
*Please note we are closed Easter Sunday
Dates: , , , , , , , , and