Wignalls Yallo Rapeseed Tasting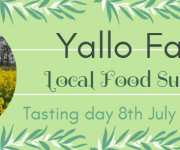 We are proud to stock & sell the Rapeseed oil produced by Wignalls Farm which is grown & pressed just 5 miles away for the Garden centre.
All-natural Yallo -Wignalls Yallo rapeseed oil is 100% cold-pressed, meaning it's made using a 'press' to squeeze the oil out of the seeds, retaining all the natural flavour. It's then simply filtered and bottled.
We are having a tasting/sample day on Saturday 8th July 11am till 2pm when you can come & meet Sandra who will be offering tastings of the Rapeseed oil.
In store we stock the cold pressed infused oils & the cold pressed rapeseed oil.
To find out more about the producers please click here.
Date: