Apple & Fruit weekend 6 & 7th October 2018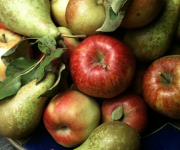 Join us in celebrating the nation's favourite fruits on the weekend of the 6 & 7th october when we will be hosing our annual Fruit weekend.
Birkacre's own experts will be on hand over the weekend to give information on apples, pears, and other fruit.
Clifford Cain, a national apple expert will be available on the 7th October Sunday to chat and answer your questions, he will also have a large selection of apples on display and will help identify your unknown varieties of apples if you bring in an apple & a couple of the leaves.
Dates: and