National Nest Box Week 14-21st February 2019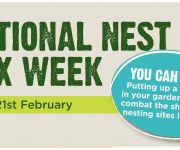 It's National Nest Box week from the 14th-21st February so now is the ideal time to put up a Nest box in your garden as the 14th February is the traditional date when birds pair up for the new breeding season.
To celebrate National Nest Box week we are giving away a Nest Box hamper worth over £40. This includes a Wooden Beach Nest Box worth £14.99, Wooden Seed Feeder £7.99 & a Mealworm 1.2kg Pouch worth £19.99
Just pick up a Raffle ticket at the information counter with your next purchase of any goods in the garden centre, to be in with a chance of winning. The winner will be announced in store & on our Facebook & Instagram pages.
If you want to help our feathered friends to feel the love, why not out up a bird box in your garden.
For more info on what kind of box you need & where to site please see the British Trust for Ornithology website https://www.bto.org/about-birds/nnbw