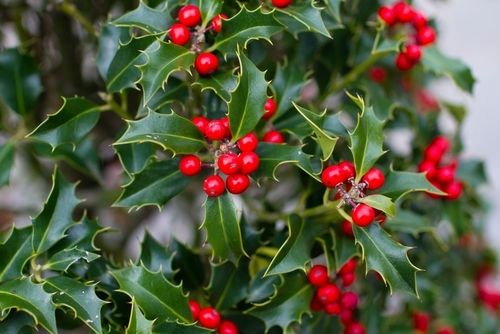 If you want to liven up your garden this winter, you can't beat a bit of red. Red and green look sensational together, and whether it's leaves, stems, berries or buds, plants are the perfect way to add a vibrant splash of red to the garden. Here are a few of our favourite red plants.
Handsome hollies
Red holly berries are a joy in winter, brightening up dull grey days. And holly (Ilex aquifolium) doesn't just look good– it's also great for wildlife. The prickly evergreen leaves make it a safe nesting spot for birds, and they love the berries too.
Most hollies are either male or female, so to get berries, you'll need to buy a female cultivar and plant it near a male holly for pollination. This isn't as difficult as it sounds – if other hollies in your neighbourhood have berries, then you can be pretty confident there's a male holly somewhere nearby. To be sure the holly you're buying is female, buy it in autumn when you'll be able to see the berries. Alternatively, choose a self-fertile variety like Ilex aquifolium 'J C van Tol', which doesn't need a separate male plant to pollinate it.
Other good holly varieties to look for:
Ilex aquifolium 'Argentea Marginata' (female)
Ilex aquifolium Handsworth New Silver (female)
Ilex aquifolium 'Silver Queen' (male)
Superb Skimmias
These well-behaved shrubs grow into neat, rounded mounds of glossy evergreen foliage with clusters of small scented white flowers in spring. Like hollies, most skimmias are either male or female, and the females bear fantastic bright red berries in winter, provided there's a male variety nearby for pollination. Skimmia 'Rubella', one of the most popular male varieties, produces beautiful red flower buds in autumn that stay on the plant through winter, opening in spring into fragrant white flowers.
Skimmias do best in light shade, so they're perfect for livening up a dull spot in the garden. Grow them in a fertile, neutral to acid soil, or in large pots filled with ericaceous compost.
Popular Skimmia varieties:
Skimmia japonica 'Nymans' (female)
Skimmia japonica 'Rubella' (male)
Skimmia japonica subsp. reevesiana (self-fertile)
Lovely Leucothoes
If it's red foliage you're after, then evergreen Leucothoe Scarletta ('Zeblid') is the shrub for you. The new leaves emerge a fabulous deep maroon colour in spring, gradually changing to green in summer and then taking on beautiful bronze tints in the autumn. Leucothoe 'Curly Red' is another stunner, with intriguingly curled green leaves that turn bright red in cold winter weather. Happiest in damp, acidic soil and light shade, these shrubs make excellent ground cover plants.
Now's the ideal time for planting shrubs, so pay us a visit and find the perfect plants to add some excitement to your garden this autumn.