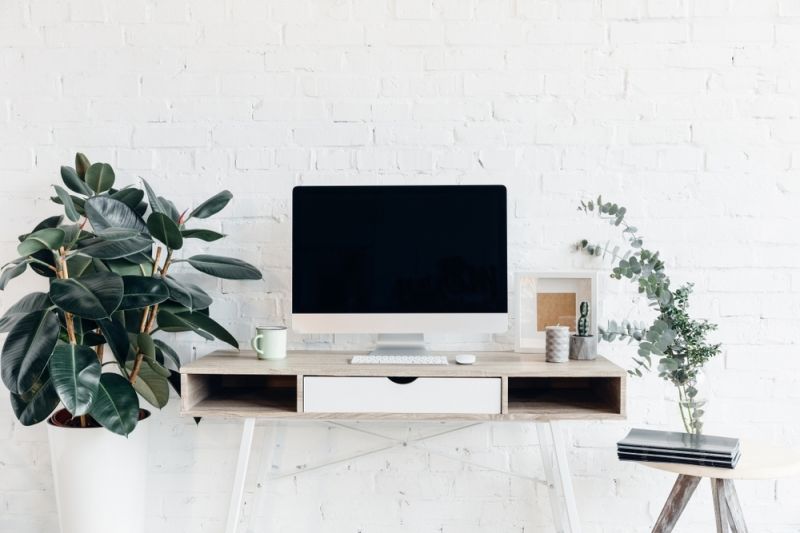 1. Tidy the cupboards
When life is busy, it is easy to throw everything in a cupboard or drawer and close it up so no one can see, including you! Make it a new years resolution to go through all of your cupboards, drawers and wardrobes to have a clear out. Give books to charity, clothes to family and visit the tip with anything else that you cant repurpose or pass on. It might take some time, but it is incredibly therapeutic and will get you off to a great start for the New Year.
2. Keep a clean desk
A clear desk means a clear mind, so we are told! It is definitely worth a try. If you have piles of paper and pots of pens with post-it notes stuck everywhere with things to do, try organising your workspace to be clean and clear. This will help your mind focus on the task at hand, rather than worrying about the mess on your desk. Don't forget that plants can help focus so a desk plant is a must. Try a Sansevieria in a shady spot, a Spider plant for an easy one to grow or a Pothos for something trailing.
3. Grow herbs on the windowsill
New Year, new diet! Make the most of your meals with some tasty, fresh herbs growing on the windowsill ready to pick at the second you need them. Nothing tastes better than fresh herbs in freshly cooked meals plus they can be grown in almost any kitchen. Grow them in pretty pots to add to your kitchen style. If the herbs are growing faster than you can use them, don't forget to dry them, store in jars and use later.
4. Sow wildflowers in the garden
Make your garden a biodiverse space by giving pollinators plenty of flowers to enjoy. It doesn't matter what size garden you have from a balcony to a rural haven, wildflowers can be sown in pots or in meadows. This will help attract a lot of garden wildlife that is great for your garden and the planet. Try Poppies, Cornflowers, Oxeye Daisies, Forget-me-nots and don't forget to leave some Dandelions and Nettles as they are loved by many insects and bees.
5. Make your home a place for memories
Do you have many photos of smiling faces and happy times stored on your phone? Take them to a photo booth or online and get the best ones printed out. Then frame them to put up and display in your home. A home full of memories and fun times makes for a relaxing and happy place. So make sure you keep those photos and share with everyone who visits.

Start your New Years Resolutions now with plants, photo frames, wildflowers and much more in store.