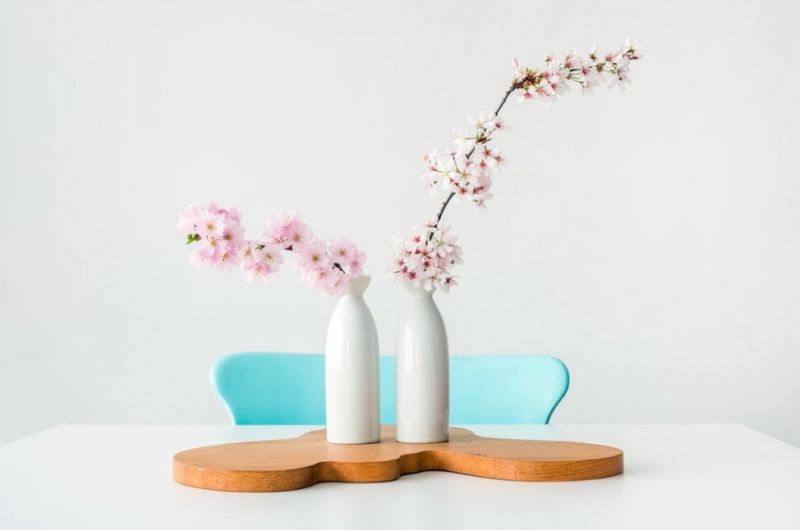 Create calm rooms when using pretty pastels in the home with natural colours for decoration, furniture and accessories. This colour scheme can be mixed with darker accents which will really stand out with the addition of big foliage plants as well. It is a trendy, relaxed yet contemporary style which works well in any home.
Using pretty pastels in the home with an accent wall
Make a light, bright room with white walls and choose your favourite pastel colour to create a stunning accent wall. Why not go for a delicate pink or a baby blue and accessorise with rose gold photo frames and lampstands. Then make things cosy with sofa throws and a plush rug. Don't forget to add in wicker plant pots with big leaf plants to finish off the look.
Choose the right sofa when using pretty pastels in the home
A great way to add pastels in the home is with a new sofa. Try a light beige soft sofa with pink and blue cushions, making it the most comfortable sofa you will sit on! Make sure there is a table at both ends for you to place your hot chocolate and relax after a hard day working in the garden.
Using pretty pastels in the home with some perfect plant pots
With so many plant pots to choose from, it's hard to decide which will sit perfectly in your home. But with a pretty pastel colour scheme, you can pick from light pink, blue, green and mix with white or grey for a lovely mix of pots and your favourite plants. Grouped together on a table, you will be creating a stunning display.
Using pretty pastels in the home kitchen
It isn't all about the lounge, as pastels can be used in all rooms of the house. In the kitchen go for light green or blue crockery with a touch of grey. Choose from a range of hand made mugs and bowls and even glasses with a hint of colour. There are many options to choose from.
Don't forget the bathroom when using pretty pastels in the home
The bathroom can be a place to unwind and relax. Think about a relaxing bath with lots of bubbles and getting out to be wrapped up in a fluffy pastel colour towel. From pink. blue, green, light yellow or orange just think of the colours of a pack of chalk and you've got your pretty pastels. For more colour make sure the bathroom mat is pastel and any face cloths as well. Don't forget for that truly relaxing feeling, hang some trailing plants in the bathroom in pastel colour macrame potholders.
From household accessories to plants and pots, we've got you covered in store with some pastel colour items to decorate your home.