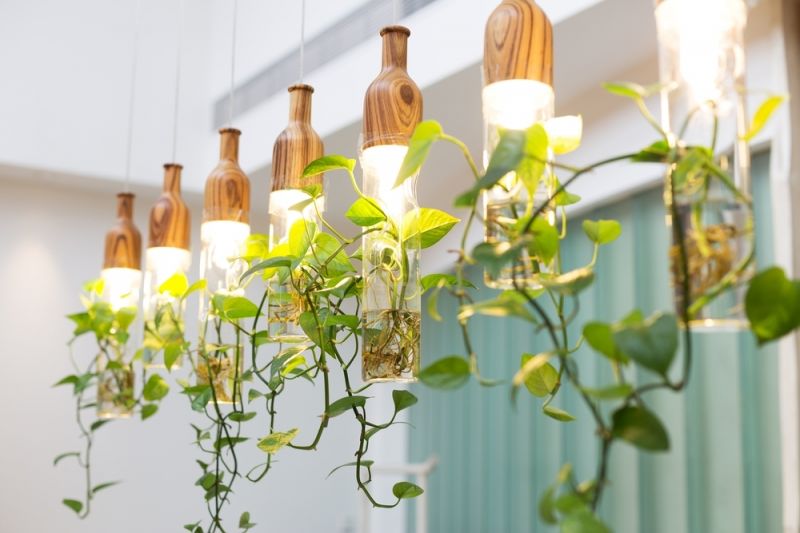 With our ideas to combine hanging plants and lights, you will be armed with plenty of ways to mix clever lighting with some of the best houseplants you can find. The two together work so well, both highlighting the plant and also the rooms in your house. Not only that but you can make a real statement, be creative or keep it on the down-low for something a little more subtle. Either way, there are many options and here are a few for you to try.
Use downlighters to combine hanging plants and lights
Give your houseplants a lift by hanging them underneath some downlighters. There are many different types of downlighter so you can take your pick from many designs but why not look for something handmade and artisan to the feature is really special to you. Use bright bulbs for a really light effect or a softer bulb to gently highlight the foliage. Either way, the two combined look lovely.
Combine hanging plants and lights with a pendant light fitting
Why not pick up a pendant light fitting and then add a plant to inside the fitting and with the light shining through. As with all light fittings, there are many available - some round bowl-shaped, some more art deco style with open sides but many plants can be grown this way and trail down the sides for a special look.
Use the natural light to combine hanging plants and lights
Using the two together doesn't have to mean using a bulb but it can also mean making the most of your natural light to help both grow your hanging plants and also highlight them. Get creative and make some very on-trend macrame plant pot hangers and let your favourite plant trail over the pot hanging from the curtain pole. Try Ivy or Pothos for really easy houseplants to grow.
Combine hanging plants and lights on a shelf
If you have shelves in your house, pick a few hanging plants and place them randomly on the shelf. Then add in some small lamps to both help you light the room and the plants. This can make for a stunning shelf which you could also add a few books onto as well. Make sure they are books about plants!
Don't forget the fairy lights when you combine hanging plants and lights
There is nothing more romantic and relaxing than some fairy lights along with selves or perhaps on the curtain rail. But, add in some hanging plants and you will create the b=most beautiful feature in your home. Hang the fairy lights, then hang the plants and enjoy.
For both light fittings and lamps along with a selection of hanging plants, come in store to pick from our selection.