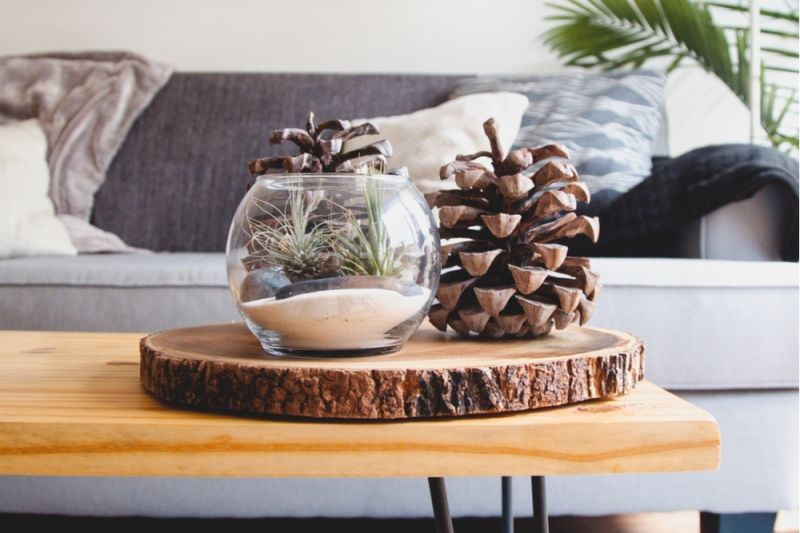 Create calm and peace and bring some natural inspiration into your home with touches of wood and accessories into your relaxing rooms. It is always lovely to come home and be able to relax after a day at work, so adding in touches of nature can add to the feeling of calm and relaxation. Create this look by combining accessories in natural materials. These ideas will help to get you started.
A teak table will bring some natural inspiration into the home
Teak is an excellent addition to a home looking for natural inspiration. The colour sits well with any colour scheme in the house, and a handmade, natural teak coffee table will bring a whole new dynamic to the room with ease. The perfect place to stand your cup of tea (or wine)!
Bring some natural inspiration into the home with flowers
One of the best ways to have a connection with nature in the house is to include flowers in your rooms. Cut flowers will look great in a vase but why not try Ferns in wooden pots, miniature Daffodils in straw baskets, or get creative and collect pine cones, twigs and other materials from woodland or your garden and make a centrepiece of nature for the table.
Wooden walls in the bathroom bring some natural inspiration into the home
There is no better way to create that natural feeling than to bring as much wood into the bathroom as you can. Why not deck the walls with treated timber and have a cabin feel to your bath. Imagine being in the mountains, cold outside, but you are warm and with nature inside.
Bring some natural inspiration to your home with shelves and plants
An easy and quick way to have that 'touch of nature' indoors, is to install some wooden shelves and stand your houseplants on them, especially any that are trailing. Instead of plain wooden straight shelves, why not try hexagonal shelves and natural wooden box shelves to make a lovely display of nature.
Accessorise and bring some natural inspiration into the home
For a delicate touch of nature, look for accessories made from natural materials. Teak accessories could include lampstands and wall decorations, even kitchen utensils and teak cup mats, or pine chairs and benches. Add in some stone as well with handcrafted stone soap dishes, plant pots and ornaments. There are many ways to bring some natural inspiration into the home, take a look around you when you are next outside to get some ideas and write them down so you can make a plan.
Our store has essential items to refresh and rejuvenate a room full of nature, come along to take a look.