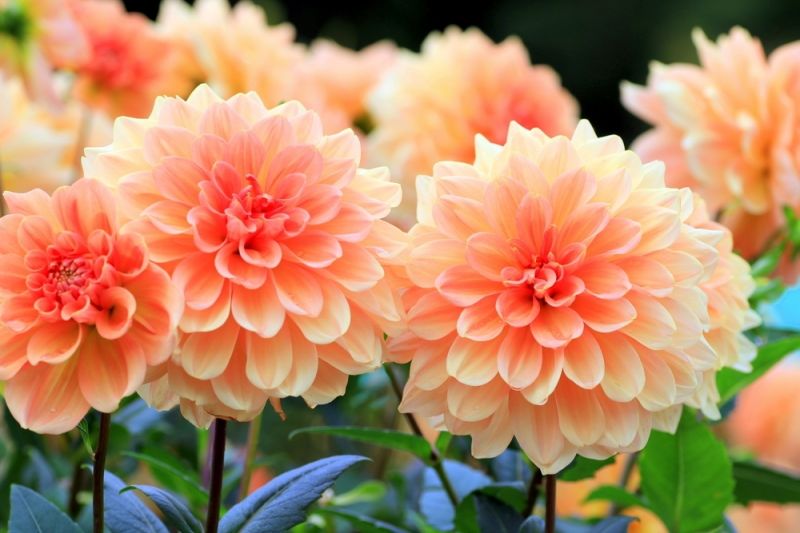 There's no such thing as a shy dahlia. They're the party animals of the plant world, with attention-grabbing flowers in all colours, shapes and sizes. They flower for months, too, so when everything else in the garden is starting to fade in late summer, they'll still be going strong. Find out how to grow dahlias.
Choosing your dahlias
Dahlias range in size from giant to dwarf, some reaching over 2m (6.5ft) tall with dinner-plate-sized blooms, while others grow to just 30cm (1ft) high and make fabulous container plants. There's a range of different flower types too, including spiky-looking cactus dahlias, huge multi-petalled decorative dahlias and neat round pompom dahlias. If you're looking for bee-friendly flowers, single dahlias are your best bet, with a single row of petals around an open centre that's easy for pollinators to reach.
How to plant dahlias
To get ahead of the crowd, buy your dahlias as tubers and start them off indoors in February or March in pots filled with multipurpose compost. Soak the tubers in lukewarm water for an hour before planting, to rehydrate them. Once you've planted your tubers, place the pots in a cool bright frost-free spot. Keep the compost moist and let the plants grow on until it's warm enough to harden them off and plant them outdoors.
You can also plant dahlia tubers directly outdoors once all risk of frost is past. They need a spot in full sun, in a light, fertile, well-drained soil. All dahlias except the dwarf bedding varieties will need good sturdy stakes, and it's best to put the stakes in first when planting, to avoid damaging the tubers. Plant the tubers about 10cm (4in) deep, with the join where the root meets the stem pointing upwards. Add a general-purpose fertilizer like Growmore when planting and water well afterwards.
Growing dahlias in pots outdoors is a simple solution when space is limited. Fill the containers with multipurpose compost, add a slow-release fertilizer like Osmocote, and plant the tubers 10cm (4in) deep.
Caring for dahlias
Feed plants fortnightly with a balanced liquid feed and water regularly, especially in dry periods.

Once plants start flowering, feed fortnightly with a high potassium feed like Tomorite.

Once shoots reach about 40cm (16in), remove all but the five most vigorous shoots and pinch out the tips of the remaining shoots down to the top pair of leaves. This feels brutal but will give you healthy, bushy plants.

Slugs love dahlias, so protect your plants with pet-friendly slug pellets or make evening patrols with a torch to find and destroy marauding slugs.

Deadhead regularly to encourage the plants to produce more flowers.

Dig up tubers after the first frost. Brush off surplus soil and hang the tubers up for a couple of weeks to dry. Then pack them into a box, covered in moist sand, and store somewhere cool and frost-free over winter.
With our vast range of dahlias and other summer-flowering bulbs, you can fill your garden with colour this summer. Visit us to see what's in store!