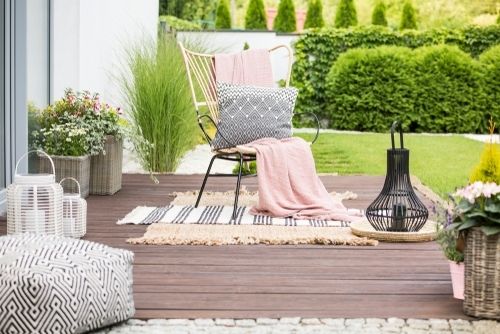 As summer approaches it is time to make sure the garden is looking great so you can relax, entertain and enjoy your surroundings. Your garden can be an extension of your home, a place to escape and immerse yourself in nature. Even if you have a balcony or a patio, these garden accessories will help you make the most of your space.
Lantern
Any space can be given the glow with a lantern situated perfectly so you can enjoy the evenings in the garden. Take a book and a blanket to put your feet up and relax. Lanterns can be found in many shapes and size great for any space. Evenings in the garden can be a hive of activity so watch out for the moths and bats.
Hammock
If your space is big enough why not chill out on your own hammock and dream of sunny evenings on a tropical beach far away. A hammock can even be attached to balconies, just make sure you have the right and safe equipment to do that. If you don't want to relax in the hammock alone there will be enough room for more!
Statement plant
Every garden, patio or balcony needs a statement plant. The one that stands out, the one everyone talks about and you adore. Decide what you love and make sure it will grow where you want it to by checking the sun and soil conditions.
Beanbag
If you want to sit back in comfort, especially if you have a small space or patio, a colourful and comfortable beanbag can do just the trick. Many are waterproof and can be left outside all summer long.
Bird feeder
There is nothing more satisfying than sharing your garden with wildlife. So grab yourself a funky bird feeder. There are so many different shapes, sizes and colours to choose from so you can get one to match your own personal garden style.
Fairy lights
They never go out of fashion! Fairy lights add a touch of magic to the garden at night as you sip on your favourite bedtime drink and enjoy the garden on a summers evening.
Fountain
The sound of water can be really relaxing so adding a fountain to suit your space can help to create your own peaceful haven. Larger water features can look exquisite in big gardens but even in smaller gardens, battery-operated or solar power fountains can be a great addition.
Garden art
From spinning windmills to bees on fence panels, there is a whole world of garden art available to match your style and personality.
A mirror
Adding a mirror to your garden can make it look bigger, just as if it is in a home. Why not check out the local antique stores to find your perfect match.
Plants
​Of course! No outside space should be without plants, so fill it up, add some colour and enjoy!
Find your perfect garden accessories from our instore range.