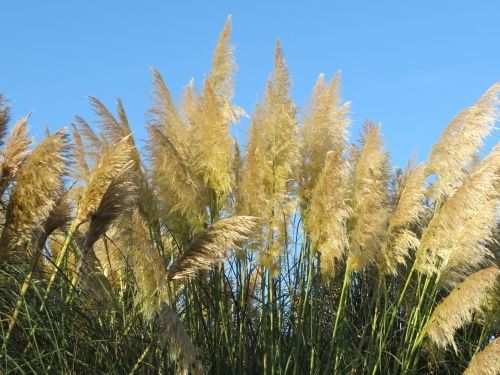 Planting grasses, the garden plant of the moment, is really easy when you know what you are playing with. Some of the most stunning garden designs and landscapes are planted with swathes of grasses, especially those interplanted with perennials similar to Piet Oudolf's popular planting style. If you have a small space, grasses can give structure and texture to small borders and pots. Grasses can be used in many different ways that work for your garden. Here are some great ways to work with this lovely garden plant of the moment.
Planting grasses in pots and containers
Grasses grow well in containers as long as they have good compost, drainage and the right light. There are many different varieties of grasses to plant with, so the options are vast. Grasses that grow at different heights can be grouped in pots to create a stunning display. Tall grass planted in a pot with perennials gives height and structure to your garden or balcony as well. Grasses are versatile and great to work with.
Large scale landscape planting grasses
If you have a really large space and would like to plant grasses in swathes to maximise the view and create an extraordinary landscape, we recommend taking a look at Piet Oudolf, who is well-known for this. He has books and a film plus you'll find him and his garden designs online. His work is truly inspirational. If you get the chance, visit Pensthorpe Nature Reserve Millennium Garden in Norfolk, Battery Park in London or the High Line in New York for lots of ideas.
Planting grasses in a smaller space
It really doesn't matter what size garden you have, because grasses can be used in all kinds of spaces. For smaller areas, why not plant low ground cover grasses or use a taller variety at the back of a border. Grasses can even be used as screening and are very easy to look after. Remember that some can grow very big and spread, so know what you are buying.
When planting grasses, pick the right plant for the right place
Make sure you are planting the right variety of grass. There are many colours from lime green to black and many shades in between. It's definitely not all about Pampas Grass anymore, although the big Pink Pampas Grass is stunning. Discover Blue Lyme Grass (Leymus arenarius) that is great in a container, and if you have moist, shady conditions try Japanese Forest Grass (Hakonechloa macra' Aureola'). Miscanthus Sinensis 'Zebrinus' is excellent for a modern garden and is often seen in coastal gardens planted with tall Verbena and bright Rudbeckia. There are so many, you are sure to find that grass that suits you and your garden.
Our friendly team is happy to help you pick the right grass, so come in store and find out what is best for your garden.