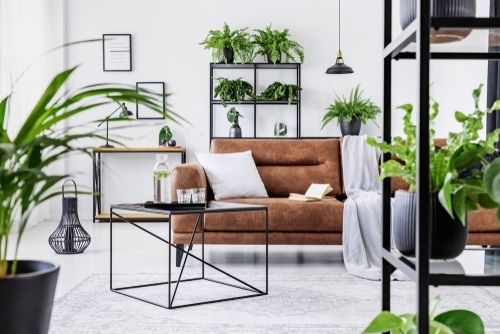 The indoor urban jungle trend is huge right now, with social media packed full of photographs of apartments and houses adorned with plants. The rise of urban living mixed with our need to be close to nature has no doubt given rise to the indoor urban jungle. There are many ways to create your own style depending on where you live, how much light your house or apartment gets and what plants you love. An indoor urban jungle can be just a corner of the room, a whole room or the entire house. We've got a selection of ideas for you to give you some inspiration.
Create a mini indoor urban jungle on your coffee table
A jungle can be as small or large as you would like, so to get started why not create a mini jungle. Making a terrarium is not only great fun and a creative way to spend some mindful time with plants but it will be a great talking point when guests come over.
Enjoy an indoor urban jungle in your bathroom
Bathrooms are ideal to create an indoor urban jungle. Lots of plants that thrive in humidity work brilliantly and can be placed in pots, hanging from the ceiling or shelves for a jungle themed shower. Ferns are a perfect example of what can be grown in a room with high humidity.
Go big to create your own indoor urban jungle
A true indoor urban jungle has a lot of plants including different shades of green, may textures but lots of big foliage and dramatic plants. So big glossy leaves and long arching stems.
An indoor urban jungle maximises on all space
If you were in the jungle there would be a canopy of trees above you and different levels of flora and fauna so keep that in mind when you are creating your own indoor jungle. Use macrame hangers from the ceiling with pots full of ferns and leafy green arching stems, then use shelves and bookcases to showcase your favourites along with a selection of pots to suit your house theme on the floor and tables. This layered approach will use as much space as you've got.
Be creative to add a touch of your own style to your indoor urban jungle
There are so many options, from moss picture frames to air plants on walls to funky hand painted pots, the options are endless so you can create your own indoor urban jungle in your own style along with a touch of your own personality.
Create your own indoor urban jungle in no time with our plants and accessories plus a friendly team to help you pick the right plant for the right place.