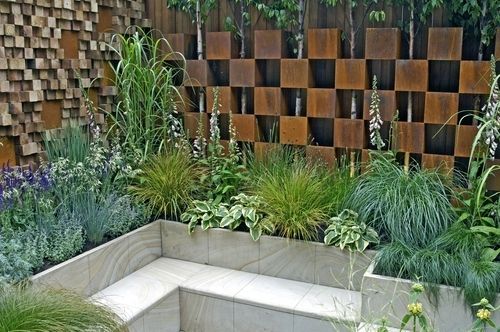 Everyone has their own garden style from cottage gardens with lots of planting to formal spaces with perfect lawns, gardens are a great way to express yourself. If you are looking for something contemporary in your garden, we have some great tips for your outdoor space. Why not make it an extension of your home, the perfect place for relaxing and family BBQ's.
Use the boundary to the maximum to create a contemporary garden
A stunning and very trendy contemporary style for your garden is to use the boundary of your garden to create sharp lines softened by trees. Use cedar horizontal panel fencing to elongate your garden and then low level white or grey painted raised beds beneath. Plant peached trees to just above the height of the fence and you will have created a very contemporary look in your garden using vertical space.
A contemporary garden needs a sharp, smart patio with waterproof furniture
All gardens should be a place to relax and contemporary gardens are no exception! Creating a space that's both smart, relaxing and inviting is really easy. Start with a new patio in a charcoal or grey shade and match some cool patio furniture such as waterproof wicker chairs and tables with comfy cushions. Don't forget some lighting so you can sit outside in the evenings and enjoy your garden. Patio lighting around the edges is ideal or even a patio heater so you can sit outside for as long as possible.
Choose a 'cool' planting scheme for a contemporary garden look
Contemporary gardens are often planted with just a few varieties of plants that contrast. You may want to look at green foliage and flowers planted with white and lilacs for a cool yet sharp colour scheme. Also, don't forget to use containers on the patio. Choose from square, metal planters with tall architectural plants or large round containers with statement shrubs and place them where everyone can enjoy the classy contemporary look.
Add your own personal touches in your contemporary garden
Don't forget that it's your garden and you can add any touch you like to your own space. If you want to hang up a mirror go for it, if you want to include some funky chair cushions pick the ones you love and don't forget when it comes to water features, it's your choice so go with the one that you really love no matter what style it is.
We have everything you need to create a contemporary garden and our friendly staff are happy to help.