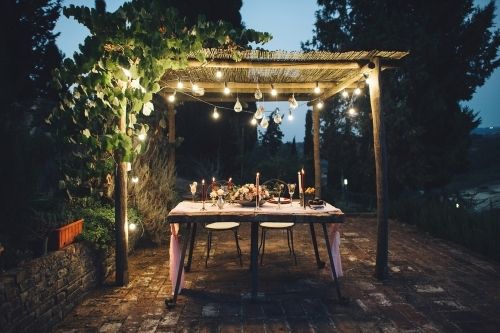 Outdoor lighting for your home and garden can create a completely different look and even gives added security along with being able to enjoy the darker evenings in the garden as well. From sensor lighting to fairy lights, pathway lighting to border lights - even lights on fountains - there is so much that can be done for garden ambiance. Here we have a few ideas for you, but the options really are endless!
1. Create a boho look with outdoor lighting for your home and garden
The boho look is still as trendy as in years gone by and there are loads of lighting options available to create this warm, relaxed look in your garden. Festoon light bulbs on wire look fantastic and can be hung in front of shrubs, fences or around the patio. Choose warm white LED bulbs hanging below a Pergola and above your garden table. There is something very romantic about this kind of lighting and it is so easy to achieve.
2. Outdoor lighting for your home and garden is easy with these bed and patio lighting ideas
It's a shame not to see all of your hard work for more hours of the day! After dark, it's much harder to see your beautiful plants, shrubs and trees. So why not light them up? There are many options from stand lights to up-lights which will all shine onto your beds and light up your plants so you can enjoy an evening enjoying your plants as well as in daylight. Don't forget your patio, by standing solar lights around the edges not only can you see where you are walking but it will also create a nice evening feature in the garden.
3. Security lighting is important outdoor lighting for your home and garden
It can be really useful to install a sensor light at the front of the house and in the rear garden or access pathways. This not only helps you when you leave the house or come home in the evenings as you won't need to flick a switch and you'll be able to see where you are walking but as the lights come on due to a movement they can be an excellent security addition for your home.
4. Outdoor lighting for your home and garden doesn't have to be just white
If you prefer some colour, then go for it! Not all garden lighting has to be white. From red solar lights to blue built-in decking lights, even green pathway lighting means you can add a touch of personality to your garden as well. There are even some fountains available with changing lights as the water runs!
For your outdoor lighting requirements join us in store to take a look at the options we have available and if you need a second opinion, ask one of our friendly team.