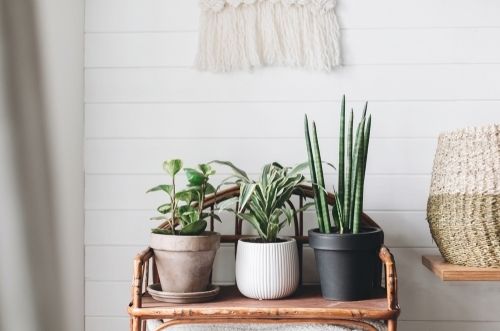 It's not only trendy but extremely thrifty to repurpose furniture but have you ever thought about using your old furniture as plant stands? So not only will you not have to take a trip to the tip or break up your beloved furniture but you can give it a whole new lease of life by using it for plants. Here are some great ideas to rehome your plants.
1. Repurpose an old chest of drawers to use as a plant stand
Remember that old chest of drawers you kept your socks in? The drawers that have been in your bedroom for years and are now chipped, scratched and looking a bit worse for wear can be transformed into the perfect plant stand. Imagine some of the drawers open and planted up with some of your favourite herbs. No need to throw them away after all.
2. Create a plant stand by using a repurposed wooden chair
If you are upgrading your dining room table and are thinking of getting rid of your old wooden chairs, don't throw them all away. Not only can they be spruced up with a lick of paint but they can also be used as a plant stand. The seat can hold pots of plants both inside and outside of the house. Saves buying a new plant stand!
3. Make a plant stand from your repurposed old waste bin
After a few years, waste bins are past their best. So why not get creative and paint the bin in any colour to suit your garden or get the kids to draw faces on. Then plant up the bin with something full of foliage that will look like hair! Waste bins create a really fun focal point in the garden and reduce waste in landfill.
4. Repurpose pallets to make excellent plant stands
For something really trendy both inside and outside of the house, any furniture that you've had delivered may have arrived on a pallet. Don't throw them away because they can be easily adapted to grow plants in. Just add some backing material and line the gaps then fill with soil and grow plants such as herbs and strawberries plus succulents would look great too.
5. Spruce up a repurposed bed frame as a plant trellis
Old beds just go to landfill but the frames can be painted and stood upright for climbing plant support. They can make a really fun addition to a garden or allotment, allowing plants such as Squashes to grow upwards. Bed frames work as a really good plant support and can be painted in all kinds of bright colours.
To add some plant life to your repurposed furniture, come in store to select some plants to grow with your old furniture.