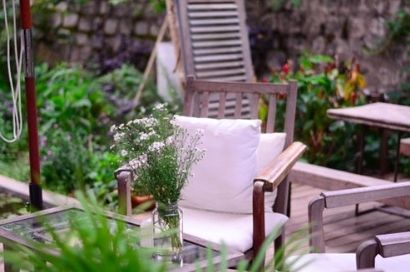 To create a modern garden think sharp lines with a touch of drama in a flowing space. Striking, yet comfortable modern gardens can be designed in any space no matter where you live. Materials are usually kept to a maximum of three, with minimalist planting and focal point plants. Here is our guide to help you create your own modern garden:
Plan ahead to create your own modern garden
The key to a modern garden is planning well ahead. You don't have to be able to draw a grand landscape design to do this but sketching out your plan onto paper will really help you to visualise and prepare for the work. It helps to ensure that you don't purchase items that you don't really need and helps to get you thinking about planting and spacing. Its the number one tip to get started - get paper and pencils!
A modern garden needs some well planned hard landscaping
We know you want to get to the planting, but firstly hard landscaping is at the heart of a great modern garden. This should be planned and installed before anything else because once you have totally sorted that your planting will compliment the style. There are so many fantastic materials available to create a lovely modern garden you can take your pick! Perhaps a perfect patio, or some cool decking along with pathways and borders. Many modern gardens include sharp lines and box shapes but also circular lawns and patios can be created. It's really your style and choice.
Planting in your own modern garden
Planting is so important for a modern garden and it is the fun bit as well! Most modern gardens have a relatively small number of plants for its space so you do need to carefully plan in advance what you would like to grow and where they will be positioned. Don't forget to choose a statement plant as a focal point so visitors and guests to your garden get the wow factor! Topiary is often used and planting in similar colours as well.
Grow in containers in your own modern garden
Don't forget to plant up some beautiful containers in your new modern garden. After you have the hard landscaping finished and the beds and borders planted up, finish off your modern garden design with some of your favourite stylish containers and plants to suit your style. You could go with bedding plants or statement perennials and make sure there is something for all seasons so you can enjoy your newly created and designed garden all year around.
Modern gardens are not hard to achieve, just remember the key is all in the planning! We have everything you need to create a modern garden plus our friendly team can even help you choose the right products and plants, so visit us in store.