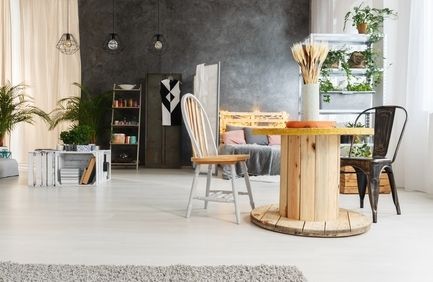 It's important to consider sustainability in interior design, as we all become far more aware of our environment and the need to live a life where we are responsible for everything we do that impacts our planet. This extends to inside the home as well as our gardens and outside spaces. When we design and decorate it is very important to think about all aspects inside our home and not just that it needs to be aesthetically pleasing but also good for the environment. Think about implementing the below into your interior design projects and you will be putting sustainability at the fore of your home.
Reducing waste helps towards sustainability in interior design
One of the top ways to decrease your environmental impact is to create less waste. In an age when most items are regarding as 'disposable' consider every material that you use and buy for your interiors. Instead of throwing out your old furniture, why not reuse it by painting or personalising. Upcycling and repurposing is a big trend right now and is a great way to minimise waste.
Sustainability in interior design includes longevity in materials
Instead of purchasing items that will soon be out of fashion, or won't last very long, consider the longevity and durability of what you are using. Design with a timeless approach and use materials that will stand the test of time. This approach minimises waste and will ultimately even save you time and energy because if you design your rooms to be on trend right now, they wont be in a few years and you may want to redesign again. This means more waste will be created from revolving projects.
Create a healthy environment to help towards sustainability in interior design
Plants are not just aesthetically pleasing and soften a design but they are incredibly good for your health. Toxins in the air are created by many modern appliances and furniture but plants can help to clean the air of those toxins and allow you to breath fresh, clean air that is good for your wellbeing. This connection with nature inside the home is a great way to feel relaxed indoors in your own healthy home.
Sustainability in interior design needs to include every efficiency
One of the tops ways to be sure your interior design projects are as sustainable as possible is to make sure you consider energy efficiency. This does include using low energy lighting, considering your heating needs, even choosing the most energy-efficient lighting is very important. Don't forget the use of insulation and using good quality fixtures and fittings, including windows and doors. Even soft furnishings can help to stop draughts.
If you are looking for ways to be sustainable in your home, we have many interior products and houseplants for you to choose from!