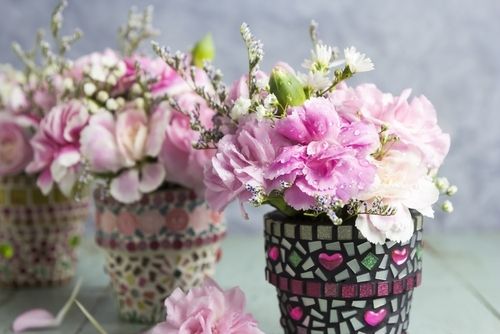 DIY mosaic flower pots are a great way to personalise your gardening accessories and get creative in the garden. Not only is it easy but it can be good fun and also children can get involved and make all kinds of fun patterns, textures and colours. Our ideas below will help you get started and create a real mosaic sparkle in your garden. Your plants can then be potted up and the colours will look fantastic.
What you will need to create DIY mosaic flower pots
There are a few ways to make a mosaic flower pot but ideally, you can use a ceramic pot which has been washed completely clean and allowed to thoroughly dry out, some mortar to stick the mosaic tiles onto the pot and then your tiles. You can use any size or shape and can even break them up carefully into smaller pieces. Then stick each piece onto the pot with your mortar and when all are on, fill in the gaps. If you need a guide just draw with pencil onto the pot first.
DIY mosaic flower pots with butterflies or bees
With so many ways to decorate a pot with tiles you can take your pick of the design but why not try making the shape of a butterfly or even a bee? Carefully choose your tile pieces first and lay them out on the table until you are happy with the shape you have made before you stick them onto your pot. It's a lovely touch to have colourful wildlife on your pots. Once dried plant up with a plant that butterflies and bees will love as well.
Random patterns on your DIY mosaic flower pots
Sometimes just being random about placing a whole lot of really colourful tiles on your pots can look amazing. It is fun to just pick whichever piece of tile no matter what colour or shape and stick it on. The randomness creates its own pattern and you'll be left with a perfect mosaic pot decorated with colour and shape ready for planting up.
Make flowers with tiles for your DIY mosaic flower pot
Along with other shapes and patterns, you can make a pot that is not just planted with flowers but also covered in colourful tiles in the shape of flowers. Use green tiles for the stem and foliage and then pick your favourite flower to create. White tiles for daisy petals and pink for roses, the choice is yours. Don't forget to lay them out on the table first to create the shapes you need first or draw directly on the pot the shape you would like to create.
Choose your pots from our range and even the plants to pop in after you have created your special mosaic pattern.
Made possible by Good Gardn.co.uk.