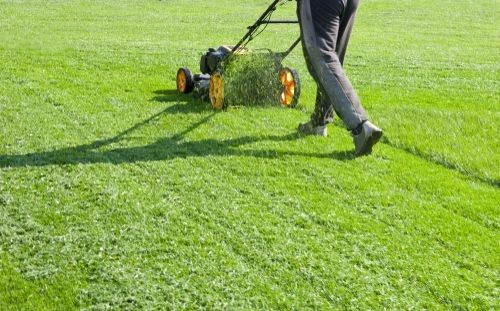 Our guide to expertly feed your lawn will help you no matter what condition your lawn is currently in. If you have a lawn that is looking tired, brown patches or weeds there is no need to despair because with some TLC and knowledge you can make it look lush and green in no time. If you have a beautiful lawn already, you will want to keep it as green and healthy as possible so you can mow those perfect stripes in. You will need to feed your lawn to ensure it keeps growing well and at the same time you can be on the lookout for diseases or pests - no one wants a mole to destroy the lawn! The little and often approach is the best way to keep on top of the growing lawn and makes it easier to maintain.
Feed and care for your lawn during spring
Start mowing your lawn as the weather warms up in Springtime and cut it on a higher setting, to begin with, gradually decreasing the cut over the following weeks. If you notice there is moss or undesirable weeds where you don't want them, Spring is the time to remove them as well. During this period start feeding your lawn with a fertiliser which will help to stop any weeds or moss growing in the future. Ideally, most lawn feed needs to be applied when the soil is at least moist, so the perfect time is when you know rain is due.
Summertime care for your lawn tips
Sometimes your lawn can look a bit downtrodden during the summer months so you may need to apply the fertiliser again, ensuring the soil is moist so make sure it is watered in well. You can also use chicken manure pellets and now there are other plant-based options as well, so there is plenty of choice. Make sure you don't use any of these after August time because the new growth can get damaged over Autumn and Winter.
Care for your lawn during Autumn
You may need to reseed your lawn and after you have removed any weeds, early Autumn is a good time for seeding. This can also be done during Springtime. All you need to do is rake over the surface and break up a little before sowing the seeds and water if needed. Don't forget to choose the right seed for your lawn.
Don't forget to care for your lawn in Winter
Whilst the colder months means you won't be feeding or weeding your lawn, it still needs some attention to ensure it doesn't get ruined over the wetter months. Try not to walk too much on the lawn so it doesn't get too muddy which will help to make sure it grows nicely the following Spring.
For seed, feed, lawn care accessories and expert advice visit us in store.