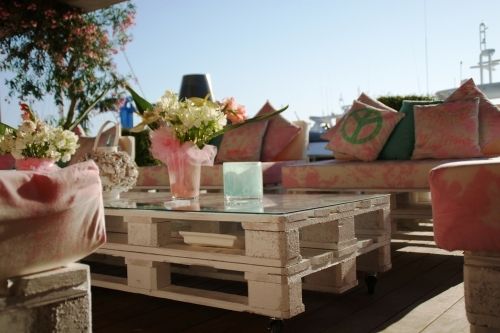 We have some cool DIY ideas for cosy summer nights. If it has been really hot outside, it is great to cool down during the evening or if the weather has taken a turn for the worse there is nothing like being indoors and creating something fun for yourself or your family and friends to enjoy outside when the weather warms up. From Hygge methods in the garden and soothing lights and accessories, there is always something fun to create with a little cosy twist. We hope you enjoy these great ideas.
Create a DIY pallet table for a cosy summer night
There is something so relaxing and fun about using pallets in the garden or even on an allotment. It is a great way to reuse and recycle for a start but also because they can be turned into something really useful for the garden. Why not stack some pallets and secure them together to make a table? All you will need is a piece of wood or similar to lay on the top so you can eat your dinner or just put your feet up and enjoy a drink on a cosy summer night. It is a project that won't take long at all but look special when finished. You could even paint it your favourite colour.
Make your own DIY candles and lanterns on a cosy summer night
Lighting is everything for the atmosphere in the evenings and using candles or lanterns will help to create that cosy feel on a summer night. Making your own candles is really easy and rewarding as you can choose the fragrance as well. If you love a delicate scent why not try making a rose candle or if you'd prefer a zing you could go with a lemon verbena placed on your new DIY pallet table! Lanterns can be made, they are great DIY projects and hung above and over structures to give that cosy summer nights feeling. Make sure you choose a yellow or pink-toned bulb for that relaxing feel.
A cosy summer night needs DIY accessorises for your furniture
Add a personal touch to your garden by making your own accessories. These could be pillowcases and throws, perhaps cut flowers from the garden in vases the options are endless. By making your own, your garden becomes, even more, your own personal space. From knitting throws to crochet blankets, even making macrame plant hangers to hang some of your favourite plants around you to sewing cushion with a pattern to suit. Lots of these on your furniture will make for a relaxing space where you can be cosy on a summer night and put your feet up after a hard days work in the garden.
Want to get your DIY project started? We can help you with the right products in store.