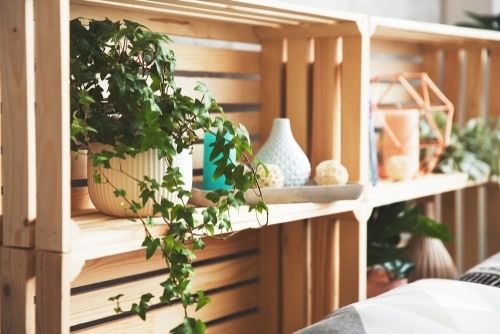 It's so easy growing Ivy indoors with little care needs and so many varieties to choose from, you can really play with where you grow Ivy in the home and also the different pots and ways to display it. Since Ivy is so versatile, it can be grown in any room indoors and in plenty of fun ways to soften room decor and be aesthetically very pleasing. Whilst some people prefer not to grow it outside as it can take over, Ivy is actually a great source of food and shelter for wildlife so it's an essential plant for both inside and outside.
Growing Ivy indoors on a shelf
Due to the fact that Ivy has a trailing habit, it is the perfect plant to grow on a shelf. The vine will grow over the top of the pot and down your shelves making for a very attractive look. As it grows you could just move it up a shelf to give it more space to grow or lay the stems along the shelf which can look fantastic. Why not even add some fairy lights as well!
Pick your pots when growing Ivy indoors
Even though Ivy will trail down the sides of your pots, it's essential to get the right size pots with good drainage that match your interior decor. Buy a pot that is big enough for the Ivy roots to grow and a good houseplant compost mix. Make sure the pots you pick to grow Ivy in are the right colours for your home colour scheme. You could match or clash, the choice is yours but pots are everything.
Growing Ivy indoors the retro way
Retro is a big home trend right now which means getting creative with plants is top of the list. If you can remember macrame from your childhood, you'll love the fact that it has made a big comeback recently. Pick your perfect pot and variety of Ivy then place it in a macrame plant hanger and let your Ivy trail down from above. You can hang it in any room, Ivy isn't too fussy, for that extra retro interior feel.
Growing Ivy indoors to make a table decoration
Ivy is such a great foliage plant to use with other plants and flower so if you have a special occasion why not use your Ivy as the centrepiece along with some other beautiful indoor plants. It would make an interesting talking point at the table and gives the often underrated Ivy some attention. Don't forget to pop in a candle or fairy lights to make it even more special.