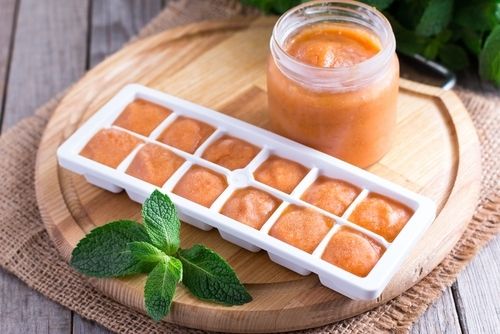 When the colder days approach, along with harsher weather conditions and the garden goes to sleep for a short time, you may want to stay home some days in the warm with your feet up and watch a movie. It does mean, however, that you will need to think ahead to what food you will need over the winter months that you can gather from the garden or allotment now. This is a great time of year to start storing lots of fresh food to use up the produce you've grown and still enjoy it all winter long.
1. Jam, Chutneys and Pickles
One of the most fun and even therapeutic ways to use all of your fruits and vegetables is by making a whole batch of jarred, delicious goods. They can be stored in the fridge, cupboards or even given to friends and family for Christmas. It's a great way to use up the glut of vegetables from the allotment, especially courgettes and tomatoes.
2. Herb and Vegetable Ice cubes
It might seem strange storing ice for winter but using ice cube trays is a great way to store herbs, butter and all sorts for use over winter. If you have a lot of spinach growing, for example, just blend it with a little water and pour into ice cube trays. These can then be used in soups, stews and smoothies.
3. Harvests in the freezer
A great space-saving storage tip is to harvest your fruit, vegetables and herbs then store them in labelled freezer bags. You'll get all of the goodness from the time of harvest throughout the winter. They can last up to three months which is a great way to store fresh herbs and some vegetables will freeze for much longer.
4. Wooden storage for squash and apples
Apple crates are a great way to store autumnal produce such as Apples and Squash. They allow airflow while keeping things dry and off any wet floors. You can store them in a garage or shed and stand them on top of each other to save space. A great way to keep your fresh fruit and vegetables for as long as possible through the winter.
5. Dried herbs in Kilner jars
If you have an abundance of herbs, why not dry them now and store them in airtight jars for using as herbal teas or in cooking over the winter months. The jars look great on shelves or kitchen worktops or alternatively store them in the cupboard. You'll be pleased you did on a cold winters day when you are enjoying a deliciously warming herbal tea on the sofa.
For storage ideas and help, visit us in store for plenty of options.