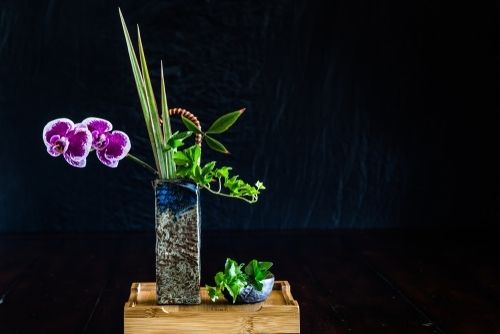 Have you heard of the new home trend Freakebana? The quirky way to decorate is becoming quite the hit. Freakebana is based on the Japanese art of arranging flowers named Ikebana which is a way of using seasonal plants off centre with form, line and colour. It is based on precision and minimalism with plants used as symbolism. Freakebana is based on this but rather than the precision, it is all about arranging items in a quirky style. If you try it, the look can become really quite eccentric with a mix of very odd items.
Freakebana is all about the accessories
You can go crazy with this home trend and really think out of the box. Forget traditional flower arranging here and pick something you can put flower stems into. No traditional floristry accessories in sight. Try potatoes, tins of spam, melons, cabbages, decaying wood - you name it. Yes really!
Chose your plants to decorate your Freakebana
Remember it is all about quirky creativity. Choose your plants to symbolise something, if that's important to you or someone else but this part definitely follows the Ikebana style. You could go crazy with lilies in sweet potatoes, or dead roses in cheese. It is this element that makes your show-off piece. Get creative and don't forget it has to sit in your home on display! Quite the talking point.
Adding a touch of the home to your Freakebana
When you have your structure and plants, it will be time to add a touch of the home to your Freakebana creation. You can use cutlery to stick on your design or old banana skins, oranges, avocado, even shoes or whatever you can find. It is an ugly, creative and fascinating way to create a home display to talk about forevermore.
A Freakebana with vegetables
If you grow your own food, you will probably get a glut at some point. Courgettes especially! Why not use one of these to decorate and make a Freakebana. Add tomatoes on sticks, tie Dahlias around the courgette and you could even put sticker eyes on to make it really come alive! There are so many ways to create your own Freakebana the options are endless.
It might seem a bit crazy but that is the point. You will be creating something visually different to look at, really on-trend plus it is a way of getting your crazy creative juices flowing with nature at the heart of it, which is the all-important point. So take some time out to see what you can put together with items from around your home plus some fun or quirky flowers to finish it all off.
If you need some inspiration, we can help you when you visit us!