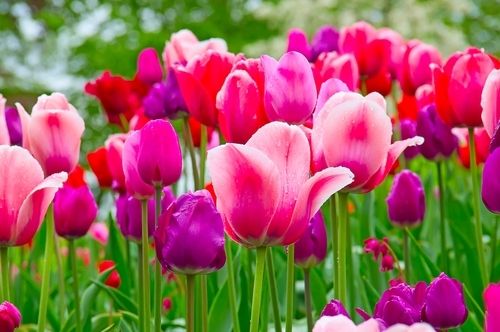 As autumn begins and the days get shorter, nothing beats a bit of colour in the garden to dispel the pre-winter blues. Now's the time to fill pots and borders with winter bedding for flowers through the cold weather, and of course, it's also time to start planting spring bulbs for a fantastic display next spring. Here's our simple guide to planting spring bulbs and bedding.
Planting spring-flowering bulbs
With so many gorgeous spring bulbs available, it can be tricky to choose the ones that are right for your garden. Luckily, there's a bulb to suit practically any spot.
Spring bulbs for sunny spots
Daffodils
Tulips
Crocuses
Hyacinths
Irises
Spring bulbs for shade
Bluebells
Snowdrops
Snakeshead fritillaries
Camassia
Erythronium
When to plant bulbs
You can plant spring bulbs from September well into late autumn – in fact, it's best to wait until November to plant tulips as it reduces the risk of viruses. For most spring bulbs, however, September or October is the ideal time to plant.
On the question of how deep to plant bulbs, the general rule is to dig a hole at least two to three times the depth of the bulb, drop in the bulb with its roots pointing downwards and fill in the hole, firming the earth back well to avoid any air gaps. If you can't tell which end of the bulb is which, plant it on its side and it'll find it's own way.
Most bulbs prefer well-drained soil, so if your soil is heavy clay, dig in lots of horticultural grit before planting your bulbs, or instead, plant them in containers filled with a 50/50 mix of grit and peat-free compost.
When planting bulbs in a lawn, the trick to creating a natural-looking arrangement is to throw the bulbs into the air so that they land roughly in the area where you want them to grow, then plant them exactly where they fall. This may sound (and feel) a bit strange the first time you do it, but gardeners have been doing it for years, so you're in good company!
Winter bedding plants
While we wait for spring, winter bedding keeps the garden looking cheerful, and there's no end of colours to choose from. Violas are the stars of the show at this time of year, in a range of dazzling colour combinations, often flowering right through winter. In areas with mild winters, cyclamens are great for shady spots, with their gorgeously marbled leaves and shocking pink or gleaming white flowers. Plant them in pots with spring bulbs underneath for colour from autumn right through into spring.
If you're looking for more ideas on what to plant this winter, your local garden centre is the place to go! We've got plants, bulbs and much more in store, and our staff are always ready to answer all your gardening queries.