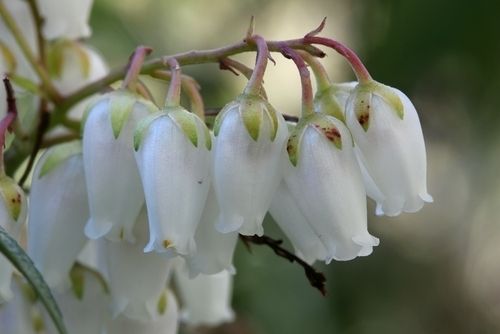 Pieris japonica is a plant of many names. Also known as Japanese andromeda, flame of the forest or lily-of-the-valley bush, this striking evergreen shrub looks good all year round. With its attractive foliage and sprays of spring flowers, it's a great low-maintenance shrub for shady gardens.
Spring flowers and foliage
Whatever you call it, Pieris japonica will catch your attention early in the year with its large clusters of small flowers. These are usually white, although a few varieties produce pink flowers, and their bell-like shape gives the plant one of its many common names – lily-of-the-valley bush. The new young leaves appear next, brilliant red in colour and providing the inspiration for yet another common name – flame of the forest. The red colouring gradually fades, and the leaves turn either green or variegated green and white in summer.
Forming a rounded, elegant shrub, Pieris japonica fits perfectly into woodland-style borders and makes an excellent companion for camellias, rhododendrons and Japanese maples.
How to grow and care for Pieris japonica
As with all shrubs, the best time to plant Pieris japonica is in autumn, once the growing season is over. Plant your Pieris in humus-rich soil in a sheltered spot out of cold winds, avoiding frost pockets as frost can damage the new spring foliage. These shrubs do best in semi-shade, with protection against strong afternoon sun. The one thing they absolutely must have is acidic soil, so if your soil is alkaline, grow them in pots filled with ericaceous compost.
The good news is that provided they're grown in the right situation, Pieris are very low-maintenance plants, with no need for deadheading or regular pruning. Should you need to prune occasionally, for example to remove damaged or crossing branches, do it in late spring after flowering is over.
Choosing your Pieris
Pieris varieties come in a wide range of sizes, with some growing less than a metre high and others eventually reaching a height of over 10 metres. They are very slow-growing shrubs, however, so even large varieties will be happy in a container for a few years. Here are a few of the most popular and reliable Pieris varieties.
Pieris 'Little Heath' – a very compact variety growing to just 60cm (2ft) high, with white-edged green leaves and white flowers in spring.
Pieris 'Valley Valentine' – grows to around 2.5m (8ft) high, a very long-flowering variety producing gorgeous deep pink flowers in spring.
Pieris 'Flaming Silver' – a striking, compact variety reaching 1m (3.5ft) high, with attractive white-edged green leaves and white flowers. Good in a large container.
Pieris 'Forest Flame' – A large shrub reaching around 4m (13ft) high, with fiery red young leaves and ivory-white flowers in spring.
Now's the perfect time to plant Pieris japonica, as well as other shrubs, so why not visit your local garden centre and see what's in stock? We've got everything you need, plus plenty of help and advice.