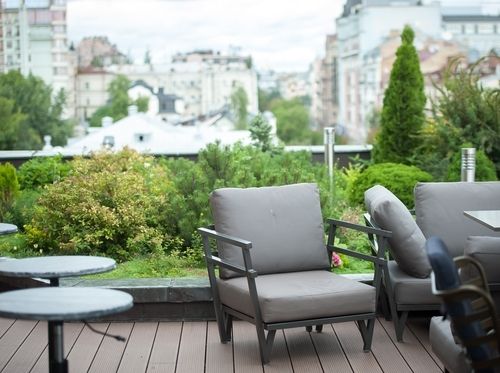 You can get creative and design your own city garden with a few tips and ideas. You do not need to be restricted if you have a smaller urban space because the options are vast with many products on the market made specifically for city spaces and many new varieties of plants available for containers and small gardens. There are so many ways to design a stunning outdoor space from urban jungle style to formal, compact planting, patios to decking and a hammock under a tree, these ideas should get you started to design your own city garden.
Create a jungle in your city garden
Big foliage plants in containers can make a huge impact in a small garden and you can even make your own microclimate meaning growing tropical and exotic plants can be very possible. Try Banana plants with Bamboo and Canna lilies with Dahlias for a splash of tropical foliage and zingy colours. Don't forget to add in some relaxed seating and you could even build your own jungle shower for some serious indulgence in the garden.
A city garden can be Japanese in style
Acers can look wonderful in a small garden plus the different colours together make for a simply stunning display. Along with Acers, grow Azaleas in pots and build a pond as water is essential for the ultimate relaxation in a Japanese garden. Don't forget the Koi Carp and some netting for protection. Seating is essential, a place to sit and reflect over your beautiful city garden.
A piece of the countryside in your city garden
Just because you are in the city, it does not mean you can't have a touch of the country in your space. Collect containers, raised beds and pallets to plant up with typically cottage style plants. Try Verbena for the butterflies, Scabious for the bees and Ivy for moths. Why not sow some sunflowers and see if they can reach the top of your fence or wall for a sunny splash in the garden plus use hanging baskets full of Petunias and Geraniums.
Make a statement with a contemporary city garden
Bold, brash colours with straight-edged topiary and funky chairs will be both inviting and stunning to guests (and neighbours). Don't forget a big, shiny BBQ to cook for guests at parties with a wine fridge for cooling the beers. Throws and cushions will set the scene plus some lighting and a perfectly placed patio.
A city garden can be purely Mediterranean
With whitewashed walls, raised beds full of herbs and Olive trees, you can bring a holiday feel to the city. Don't forget a Bougainvillea and a climbing Jasmine to finish off the style. Put your feet up after a day at work and imagine being on holiday.
For all size spaces, we have a variety of plants and accessories in-store to suit any design of garden.