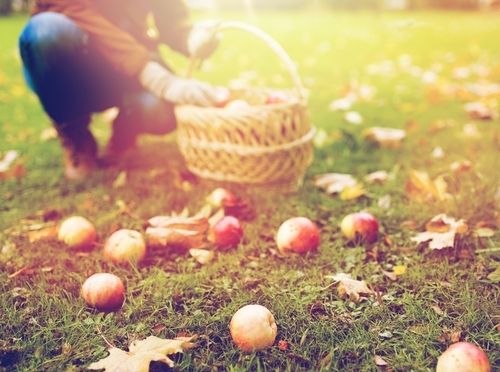 October is a last gorgeous blaze of warm colours – ripe red apples, orange pumpkins and glowing yellow leaves. In the garden, it's time to gather the fruits of this year's labour, get ready for winter and start planning for spring.
Harvesting tips
Let pumpkins ripen on the vine until they're deep orange in colour and sound hollow when you tap them. Protect them against early frosts by covering them with horticultural fleece, cardboard or straw. Once they're ripe, use a sharp knife to cut them off the vine, and leave them somewhere dry and sunny for a week for the skins to harden.
Remove any remaining green tomatoes from your tomato plants. Ripen them indoors by putting them in a paper bag with a banana or an apple – the fruits give off ethylene gas that helps the tomatoes ripen. Place the bag somewhere warm and check it every couple of days to make sure nothing is rotting.
What to plant in October
There's still planting to be done in October. In fact, now's the ideal time to plant new shrubs and trees or move existing ones, giving plants' roots time to settle in and develop over winter before the growing season starts again in spring.
While the soil is still warm from the summer, it's a good time to lift and divide summer-flowering perennials such as hardy geraniums, agapanthus and salvias. Small plants can be teased apart by hand at the roots into smaller clumps for replanting. For larger plants such as daylilies, insert two garden forks back-to-back into the root ball and use them as levers to break it into two sections. Replant divided plants straight away and water them in well.
Now's also a great time to plant spring bulbs, and to fill pots with winter bedding plants such as violas and cyclamens to give you colour through the coldest months.
10 jobs to get your garden ready for winter
Aerate and scarify your lawn, and give it the last cut before winter.
When you've harvested your beans, cut the plants back, leaving the roots in the soil to release their stored nitrogen.
Prune summer-fruiting raspberries by cutting back all this year's old fruit-bearing canes. Leave the new canes to produce next year's fruit.
Lift dahlia and gladiolus bulbs and store somewhere dry over winter. In mild areas, you may get away with leaving them in the ground under a thick mulch.
Collect seeds for next year.
Move half-hardy plants into a greenhouse or indoors.
Sweep up fallen leaves, especially off lawns, and make leafmould
Cut back perennials.
Clean and disinfect your greenhouse.
Raise pots on pot feet.
Whether you're looking for spring bulbs, hedging or garden tools, your local garden centre has everything you need this autumn. We're always happy to help with all your gardening queries, so come and visit us!