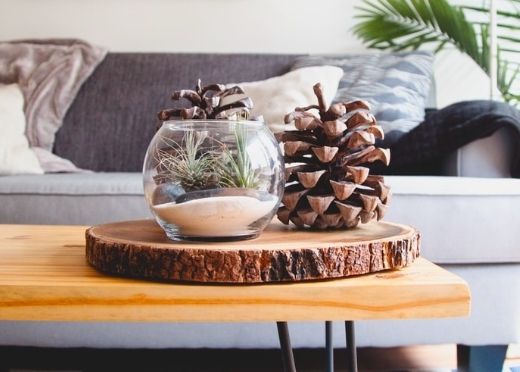 Create a natural Rustic Refined indoor style in your home, where sea blues meet greens alongside natural wood and handcrafted accessories. It is a poetic and creative style making your home a chilled place to relax, work and spend time with family. Even though it is inside, the Rustic Refined style will ensure you are in touch with nature in a beautifully welcoming atmosphere. Here is how to make that happen in your home.
Include handmade wood in your rustic refined home
Think about the colours and all of the natural wood when you go walking in woodland or driftwood on the beach. Include some bare branches in your new style home alongside wooden tables, stools and chairs. You could also stand a large natural looking container in the corner of your room and place fallen branches in, some still with leaves for a real feel of being with nature. Add some fairy lights for evening times relaxing on the sofa.
A rustically refined style needs some nature-inspired textiles
Use fabrics in colours such as the blue Pantone 7455C alongside the darker shade of Pantone 539C. The two will create a sea feel where you can think of the waves on a deserted beach. To ensure there is some pattern to your fabrics use throws and cushions with wildlife or animals featured as well so you can really feel at one with nature.
Mirrors and photographs will add to the rustic refined theme
Add some sparkle with a silver framed mirror where the sunlight catches and glistens just like the ripple of the water and hang it up on a wall painted with the muted green colour of Pantone 5743C. Include photos in wooden or silver frames of gardens, plants and woodland. You will soon feel like you are relaxing amongst nature from the comfort of your own home.
Relaxed lighting is needed to highlight calm areas in a rustic refined style design
Muted lighting is the way forward to keep the feel of calmness from gently lit lamps on a wooden side table to exposed bulbs from the ceiling and even light stars on the wall. Artisan handcrafted light fittings are all the better for a personalised special touch.
Complete the rustic refined look with accessories
From plant pots to vases, wildlife ornaments and seagrass storage boxes, make sure your accessories complete the look and feel perfect. Try earthy coloured plant pots with your favourite houseplants in and make sure there are spots of calm colours such as the purple Pantone 5265C and a lighter Pantone 7450C. Don't forget your crockery as well. Grab a coffee on the sofa in a natural green cup and put your feet up in your relaxing space.
Create your rustic refined home with plants and accessories from our store, come in and find your perfect style.