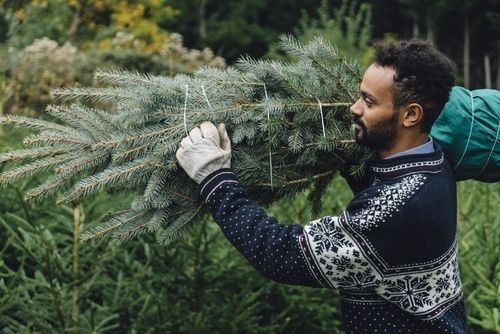 Our guide to choosing the right Christmas Tree will help you to decide on the perfect Christmas tree to give your home the festive feel for December. From real Christmas trees with that traditional smell of pine needles to something pre dressed and easy to install, there are so many options. All you have to do is pick the perfect one for you and your family.
Choosing the right Christmas tree for you with a real tree
To add that scent of Christmas, it has to be a real tree. The three trees widely available are Norway Spruce, Nordmann Fir and Blue Spruce. A traditional Norway Spruce will provide the classic look and shape to decorate with your favourite baubles. The Nordmann Fir holds needles really well and again, can be decorated in your favourite style. The Blue Spruce is named as such because of its beautiful blue needles and looks great with a silver colour scheme. Make sure you choose the tree that suits you, your family and colour scheme. Don't forget the tree always looks smaller in the shop than when you get it home!
Artificial Christmas Trees should be in the mix when choosing the right Christmas Tree
There are so many options when it comes to choosing an artificial tree. There are many different colours from green to white and silver plus even pre-lit trees, saving you the worry of untangling the lights every year. You can even include trees dusted with snow! The upfront costs may be more than an artificial tree but you can use it for years to come.
Why not try an alternative tree when choosing the right Christmas tree
If you are looking for something different or on-trend why not try an alternative approach to your usual Christmas decorations. You could even get your creative juices flowing and make your own twig tree which is a great space saver and can be decorated in your own style or if you'd prefer, buy a ready-made one with lights and decorations already attached. You could give your home a rustic feel with a Scandinavian style wooden tree and decorate how you wish or leave it bare for a minimalist display. Whichever tree you choose, don't forget the star or fairy at the top!
From real to artificial and everything in between, visit us and our festive displays in-store.