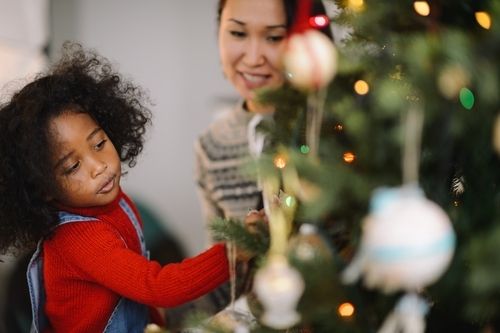 It is that time of year to get decorating the Christmas tree with all the frills and sparkles that you desire! It is a fun part of the festive season and can be a real family event or just a romantic evening with a glass of wine while the fire is on. With so many options to decorate the Christmas tree, it can be really difficult to pick the style, colours and accessorise so we have put together this guide to help you out.
1. Go big on a mix of colours when decorating the Christmas tree
From silver to gold colour schemes or classy white, perhaps a mix of red and green - there are so many ways to decorate the Christmas tree to suit you, your home and family. However, if it is a hard decision, why not scrap the decision making and go big on a whole mix of colours without worrying about it looking perfect. Put everything you have on the tree from tinsel to baubles and it will look a mix of wonderfulness for Christmas.
2. Sit back when decorating the Christmas tree and let the kids do it
There is enough to do at Christmas so why not relinquish responsibility for the Christmas tree decorating and let the kids go for it!? Open the boxes of baubles, get the tinsel ready and let them decorate the tree just how the would like, while you sit down and put your feet up! Then when everything is ready, top the tree with a star or fairy and don't forget the family photo!
3. Take a natural approach when decorating the Christmas tree
If you don't fancy decorating the tree with the usual type of decorations, get outside and start picking some natural decorations to make your own. This can bring a beautiful and personalised approach to the festivities plus means you get some outside in the fresh air before going back home to decorate the tree with pine cones and sprayed twigs while warming up with a hot chocolate.
4. When decorating the Christmas tree think contemporary
For something very different from the traditional festivities take a contemporary look instead and really vamp up the decorations this Christmas. Go with just white lights on the tree or just decorate with coloured birds perched gracefully on the branches. There are some wonderful and interesting Christmas tree decorations available now, so mix it up and go contemporary with your style.
Whatever your style we've got your covered in store. Visit our Christmas section in the store to pick up everything you need.